At the dawn of the 20th century, Americans believe that science, especially the medical sciences, will soon conquer all of mankind's ills. For a brief time medical schools open their doors to women, allowing them to join the scientific crusade. Genevieve Summerford is one woman who answers the call..
A PROMISE OF RUIN (Book 2)
As psychiatrist Dr. Genevieve Summerford watches from the docks, the body of a young Italian woman is pulled from Manhattan's East River, dampening the city's Independence Day festivities. The police suspect random violence -- but when Genevieve is asked to help find another young Italian woman who's gone missing, she soon discovers that something far more sinister is afoot.
Winner of ForeWord Reviews' Book of the Year Award and the Next Generation Indie Award for Best Mystery, and Nominated for the Strand Critics Award for Best Debut.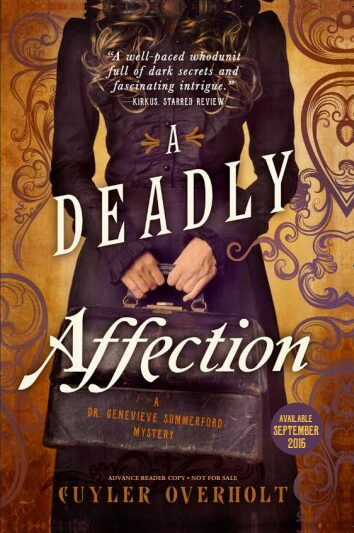 A DEADLY AFFECTION (Book 1)
After a past family tragedy for which she holds herself to blame, Dr. Genevieve Summerford wants nothing more than to succeed in her new career as a psychiatrist, and win back the respect of her family and peers. That goal is thrown into jeopardy, however, when one of her patients is arrested for murder — a murder Genevieve fears she may have unwittingly provoked.